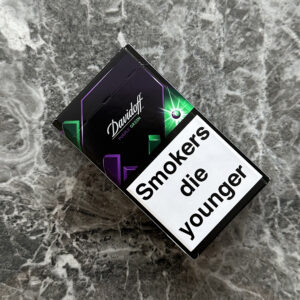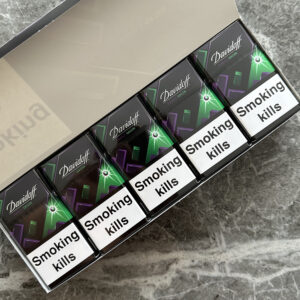 Out Of Stock
Davidoff Purple Green (Reach Fusion)
$6.34 – $51.75
€ EUR

£ GBP

$ USD

$ AUD

¥ CNY

ر.س SAR

د.إ AED

Kč CZK

$ HKD

Ft HUF

R ZAR
Compare
Description
Davidoff Purple Green (Reach Fusion). The line boasts Davidoff tobacco qualities but is compacted in a King Size cigarette format featuring an innovative Combo-Filter and a premium cigarette paper.
The capsule of menthol gives a real fresh touch and the second berry-flavored capsule provides unique taste.
Class A Tobaccos Advanced Sensation Filter.
* Selected Premium Tobaccos
* Purple Sensation
* Reduced Smoke Smell
Each unit includes 10 packs of 20 cigarettes (total 200 cigarettes).
---